Flavor you love
Ingredients you know
Natural Flavors: Makes your water taste amazing!
Ascorbic Acid(Vit C): 100% DV of Vitamin C and a bit of fizz
Sodium Bi-Carbonate: helps your bit fizz to break apart
>.5g of Cane Sugar: Holds your bit together with a hint of sweet
Citric & Tartaric Acid: Balances the flavor and helps it fizz
>1% of Rice Extract & Silica: Helps your bit from getting stuck in the bit making machine!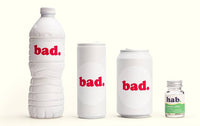 - Reduce Waste
+ Build New Wells
Over the next 5 years, our dream is to prevent 500,000,000 single use bottles and cans from entering our landfills and oceans. We believe that products and companies should do good for people and the planet.
Because we believe that habits shape our world, we partnered with 1% for the Planet and The Water Project to help bring clean(safe) drinking water to those in need. A percentage of every sale of Hab products go towards this mission.